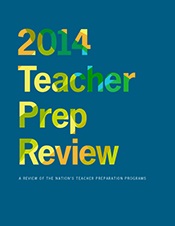 Teacher Prep Review 2014 is the second edition of NCTQ's annual assessment of the nation's 2,400 teacher prep programs. The Review uncovers early evidence that teacher prep programs are beginning to make changes. It arrives at a time of heightened, unprecedented activity across the nation to improve teacher preparation.
Here are a few of the positive highlights:
NCTQ's top performers include Miami University of Ohio, Arizona State University, CUNY-Hunter and Western Governors University, an online program.
NCTQ apologizes in the report for not always acting "with sufficient sensitivity" as it pursued information on programs, and the new report attempts to ease some of the tension by pointing out areas of agreement between the NCTQ and most colleges of education, but it's unclear whether that will placate critics.
Delaware, Rhode Island and Connecticut have boosted standards, making it tougher to get into training programs or get a license.
The release of the report is timely, with Education Secretary Arne Duncan recently resurrecting an effort to regulate teacher training programs across the country.
According to the findings, hundreds of universities have abysmal teacher training programs, and alternative certification programs are even worse. Too many programs are enrolling weak students and aren't instructing them on the basics, like maintaining discipline or using research-based strategies to teach reading.
As in the past, not everyone, especially many of the programs ranked by NCTQ, is happy with the report. Most of the backlash surrounds the method by which NCTQ collects information; in other words, NCTQ does not always work with programs nor does it obtain complete information on syllabi and program standards before publishing its reports.
To read the full report, or see state by state breakdowns, please visit http://www.nctq.org/teacherPrep/review2014.do