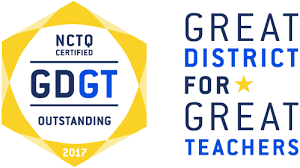 Eight school districts just became the nation's first-ever Great Districts for Great Teachers. This new honor, developed by the National Council on Teacher Quality (NCTQ), recognizes districts for their exceptional programs and policies on recruiting, encouraging, supporting, and retaining great teachers.
The winners are: Boston Public Schools; Broward County Public Schools; Denver Public Schools; District of Columbia Public Schools; Gwinnett County Public Schools; New York City Department of Education; Pinellas County Schools; and Pittsburgh Public Schools.
These eight Great Districts have proven themselves national leaders in developing great teachers, so that they, in turn, can deliver exceptional instruction to their students. NCTQ declared two of these districts — District of Columbia Public Schools  and Gwinnett County Public Schools — to be Outstanding Great Districts for exceeding the organization's benchmarks and demonstrating exceptional achievement. An additional four districts were given honorable mention.
More details about the program can be found at www.greatdistricts.org