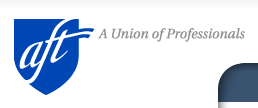 AFT President Randi Weingarten recently reaffirmed the AFT's commitment to increasing the standards for teacher certification.
In a follow up to our previous post, American Federation of Teachers calling for an adoption of a bar exam for aspiring teachers, following are Randi Weingarten's recent comments on the AFT executive council's adoption of the report on teacher preparation entitled "Raising the Bar: Aligning and Elevating Teacher Preparation and the Teaching Profession":
"The world is changing at breakneck speed, and so are the knowledge and skills educators need so they can help students be prepared for life, career and college. That's where the AFT's task force report "Raising the Bar" comes in-to accomplish our work, we must raise the professional standards for teachers and align them with what kids need to succeed in the 21st century. It's well past time to end the sorry tradition of tossing brand-new teachers the keys to their classrooms and leaving them to see if they and their students sink or swim. This is unfair to both students and their teachers.
"Teaching, like the medical, legal and other professions, must have a universal, rigorous, multidimensional entry assessment to ensure that a new teacher possesses the required knowledge and skills to be a caring, competent and confident classroom professional. The report outlines such an assessment's components, which include completing a yearlong clinical experience, knowing one's content and basic teaching skills-like classroom management and differentiating instruction-and demonstrating that knowledge in real-life clinical classroom situations. It makes clear this 'bar-like' process is for prospective teachers and in lieu of, rather than in addition to, the processes that exist today.
"As in these other professions, those with the primary responsibility for setting and enforcing the standards of our profession should be the professionals themselves-in our case, educators, not those who haven't taught or prepared teachers and have never walked in our shoes.
"All stakeholders-teachers and teacher educators, state education chiefs and education boards, accrediting agencies, and education associations and unions-must help end the patchwork processes we have now. We must work together to ensure that teacher preparation standards, programs and assessments are aligned with a well-grounded vision of effective teaching.
"After a great discussion, the AFT officers and executive council embraced the report's recommendations and agenda for action. AFT teachers and teacher educators will now move forward with other invested parties as we work with the National Board for Professional Teaching Standards to design the standards and assessment prescribed by the report. Development and implementation of this assessment will give educators at all levels real ownership of their profession."
For access to the full report, see: http://www.aft.org/pdfs/highered/raisingthebar2012.pdf