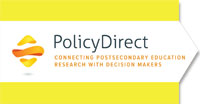 Last week the Institute for Higher Education Policy (IHEP) launched a new site containing cutting-edge postsecondary education research for a policy-focused audience. PolicyDirect is a one-stop, online resource that delivers more than 300 easy-to-use summaries of academic research that highlights critical findings on important higher education issues such as college preparation, financial aid, productivity, and student success.
PolicyDirect offers a broad collection of research summaries and synopses generated by a dynamic, evaluative process. Considering several criteria—including methodology, cost-effectiveness, and scalability—PolicyDirect experts each year evaluate research studies in 12 key topical areas. They then summarize the best research to provide easily digestible and bottom-line information that can be sorted by criteria and by topic.
PolicyDirect is a helpful resource with a straightforward approach to research for everyone who is interested in addressing our nation's most pressing postsecondary education challenges.  In addition to its online research summaries, PolicyDirect will offer other resources, including informational Webinars, policy briefs that synthesize research across topics, and a series of research-to-policy events in which a range of stakeholders will convene to discuss issues affecting college attainment.
To learn more about PolicyDirect, please visit http://www.policydirect.org